I invite you to close your eyes and imagine the near future – one that's filled with artificial intelligence and Cloud computing.
Whenever I engage in this thought experiment, I envision data being produced by an autonomous vehicle, an industrial plant, or social media offshoots. Specifically, the data takes its place within a queue to feed software, only to be processed somewhere off in the digital universe and used to increase drive, productivity, and efficiency.
Yet, this vision of the future is incomplete.
Our world will soon be populated with smart cities that free us from the effort of having to search for a parking space, obtain a degree, or even book a medical appointment. In a word, our social and economic activities will change irreversibly over the next 10 years, and in ways we cannot even imagine.
Such systemic and global restructuring will allow us to evolve and sustain social and economic progress.
While anything is possible in our imaginary sphere, our challenge is to transform these intriguing, albeit complex concepts, into reality. The autonomous vehicle that's capable of finding its own parking space has built-in sensors and tracking devices; the doctor who takes the initiative to visit us at home receives emergency notifications that are based on algorithms in a global network; and the production plant adapts the speed of production by itself, according to the data it receives from orders. Of course, all of this requires effective and efficient coordination – a boss who's capable of orchestrating these intricate activities without forgetting anything or stepping away from the office.
Here comes the news.
At Huawei Connect 2020, Huawei announced the Intelligent Twins.
Intelligent Twins leverage cloud as the foundation and AI as the core. With collaboration across the cloud, network, edge, and device, Intelligent Twins enable an intelligent, open system that is capable of all-dimensional perception, all-domain collaboration, precise judgment, and continuous evolution, delivering a smart experience for people, cities, and enterprises in all scenarios.
This level of ingenuity requires an entirely new strategy that leverages a depth and breadth of human knowledge and enables lightning-fast adaptability. More to the point, we need to manage data where it is born, send it to the Cloud only as needed, and operate with the speed and agility of computers. Without question, this is a big and complex problem to solve.
Listening to Hou Jinlong, President of Cloud & AI BG at Huawei, it seems he has a solution "The Intelligent Twins are an integrated system with synergy across five tech domains, integrating the cloud, network, edge, and device. It is perceptive, conscious, actionable, and evolvable. Building on the Intelligent Twins, Huawei will work with partners to accelerate the intelligent upgrade of governments and enterprises, expand the industry market, advance the software and service industries, and unlock the blue ocean of the edge computing industry"
At the risk of a spoiler: The architecture of "Intelligent Twins" is fascinating to behold. Starting from the lowest level, where data is generated (e.g., a car or smartphone), it rises to the data transmission network and then ascends to the software that processes the data. The common denominator among these layers is artificial intelligence (AI), which, like a boss, governs, routes, transmits, and processes enormous volumes of data without missing a beat.
It resembles this architectural model for industries: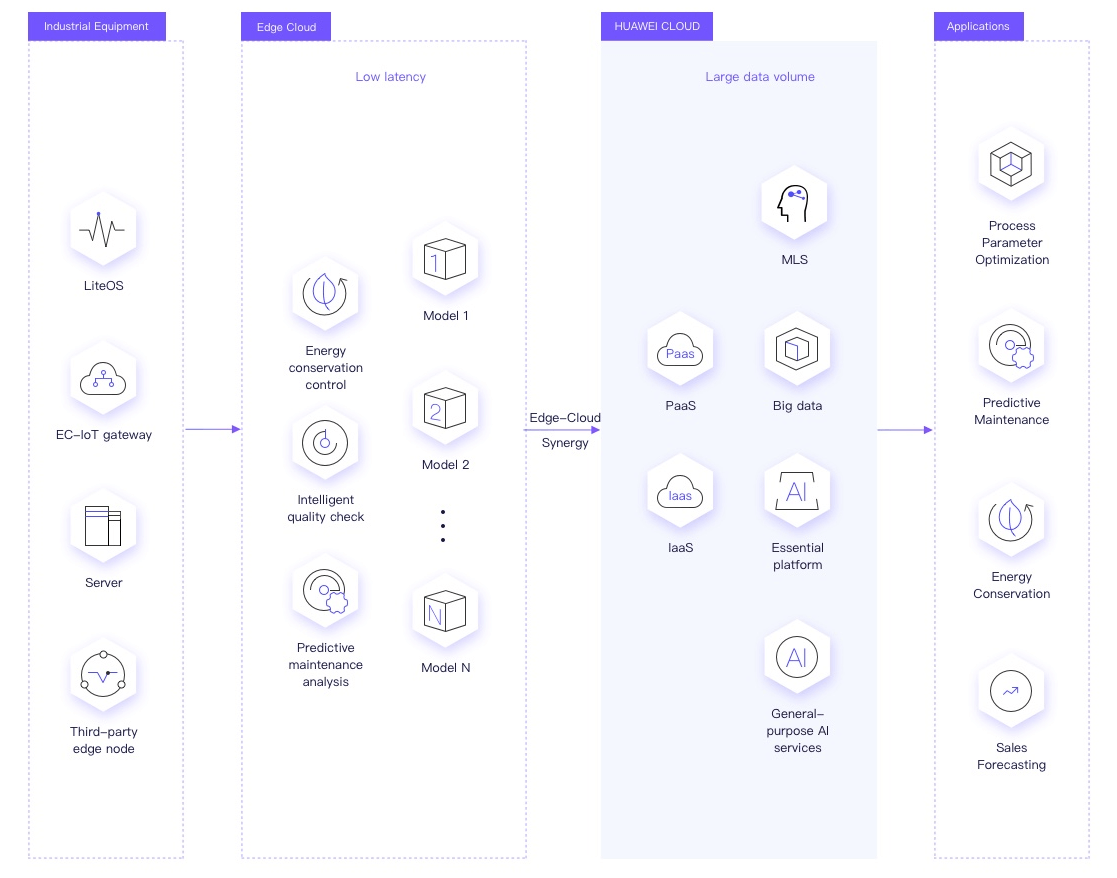 Specifically, this end-to-end management is made possible by AI and is based, at the infrastructure level, on various configurations of the Cloud.
In real life, the Intelligent Twins have been announced by Shenzhen and Huawei: the Shenzhen Intelligent Twins.
Driven by data as the foundation, Shenzhen Intelligent Twins will leverage emerging technologies such as 5G, cloud computing, IoT, big data, AI, and blockchain to build a system including an intelligent service network, applications, intelligent hub, data interaction system, and intelligent infrastructure. This will build an integrated, data-driven deep learning system for citywide coordination, setting the gold standard for Digital China.
Although we could call it omnipresent virtual intelligence, the experts at Huawei have opted to use the term "Intelligent Twins" – where the twin represents the virtualization required to unleash the power of AI and hearken a technological symphony.
This symphony excites us because it's attuned to our productivity, social lives, and lived experiences. What's more, it's the soundtrack that underlies our motivation to collaborate and our very awareness of what it takes to become better human beings – more connected, sensitive, and desirous of leaving nobody behind.
This symphony, performed by Intelligent Twins, is a testament to our shared humanity.
You can listen to the recorded event here.
#HuaweiPartner